| | |
| --- | --- |
| | Product Links |
| | |
| --- | --- |
| | Inside SRI |
SRI-Newsletter
| | |
| --- | --- |
| | Subscribe to our newsletter to receive monthly specials, manufacturer's feature, and electronics news via email. |

---
See Our latest release of SRI-Newsletter here


---
View Our List of Archived Newsletter Articles


| | |
| --- | --- |
| | SRI Links |
Visit our Sister Site,

Distributor of
Industrial Products
Web Search ..
Powered by;







EDE1188 Keypad Encoder IC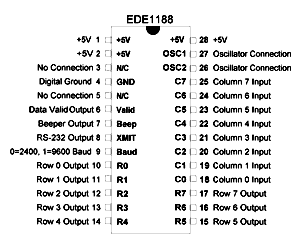 The EDE1188 Keypad Encoder IC is designed to interface a matrix-type 8 row x 8 column (64 key or less) keypad to a microcontroller or other host processor. A one-wire serial or eight-wire parallel interface returns the keypress data and can be used in conjunction with a 'data valid' signal for polled or interrupt-driven applications. The EDE1188 provides enhanced keypad features such as contact debouncing and key auto-repeat in an easy-to-use package that will lower software overhead in the host microcontroller and reduce the I/O pin requirements from sixteen to one, frequently resulting in the use of a less costly host microcontroller in your design.
Download the EDE1188 Datasheet (Acrobat PDF).
To Order, Click on your choice:
EDE1188/P (DIP Package)
EDE1188/SO (SOIC Package)




**Specifications subject to changes**

[Go to Search] [Back]


Page Links



Free Acrobat


E-Lab product specifications are available in Adobe Acrobat PDF format (ver3.0).

Download a free copy of the Acrobat Reader software directly from Adobe.