| | |
| --- | --- |
| | Product Links |
| | |
| --- | --- |
| | Inside SRI |
SRI-Newsletter
| | |
| --- | --- |
| | Subscribe to our newsletter to receive monthly specials, manufacturer's feature, and electronics news via email. |

---
See Our latest release of SRI-Newsletter here


---
View Our List of Archived Newsletter Articles


| | |
| --- | --- |
| | SRI Links |
Visit our Sister Site,

Distributor of
Industrial Products
Web Search ..
Powered by;










EDE300 Parallel/ Serial Transceiver IC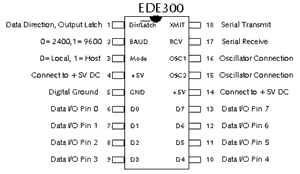 The EDE300 Parallel/ Serial Transceiver IC is a 5 volt, 18 pin device designed to conveniently convert 8-bit parallel data into serial format and vice-versa. The EDE300 is ideal for logging data to a PC, controlling hardware via the PC serial port, communicating 8-bit data via a serial connection, and expanding the I/O capabilities on microcontrollers and Stamps. The EDE300 is BAUD-selectable, offering both 2400 and 9600 BAUD communication. PC connection requires the use of a voltage level shifter such as the MAX233. The EDE300 can be configured as either a half-duplex transmitter, a half-duplex receiver, or a half-duplex bi-directional transceiver.
Download the EDE300 Datasheet (Acrobat PDF).
Download the EDE300 FAQ (Acrobat PDF).
Download the EDE300 Application Note #1 Device Control via the PC! (Acrobat PDF)
To Order, Click on your choice:
EDE300/P (DIP Package)
EDE300/SO (SOIC Package)
This application note illustrates using the EDE300 to control devices via NPN transistors, Power MOSFETS, Mechanical & Solid State Relays, and Transistor Array IC's - plus sections on expanding I/O using shift registers and a PWM example using an H-Bridge to control a DC motor.
The EDE300 requires a 4 MHz Resonator or Crystal to operate. We offer a 4 MHz ceramic resonator with built-in load capacitors. Alternately, you may choose to supply your own crystal.
4 MHz Resonator with internal load capacitors: $1.50

We also offer two styles of RS-232 voltage-level converters. The MAX232 from MaximSemiconductor, Inc. requires only a +5V supply and makes an effective voltage interface between the EDE300 and a PC.
MAX232 Voltage Level Translator with five 10uF Electrolytic Capacitors: $5.00

Download the MAX232 datasheet (Acrobat PDF).




**Specifications subject to changes**

[Go to Search] [Back]


Page Links



Free Acrobat


E-Lab product specifications are available in Adobe Acrobat PDF format (ver3.0).

Download a free copy of the Acrobat Reader software directly from Adobe.