| | |
| --- | --- |
| | Product Links |
| | |
| --- | --- |
| | Inside SRI |
SRI-Newsletter
| | |
| --- | --- |
| | Subscribe to our newsletter to receive monthly specials, manufacturer's feature, and electronics news via email. |

---
See Our latest release of SRI-Newsletter here


---
View Our List of Archived Newsletter Articles


| | |
| --- | --- |
| | SRI Links |
Visit our Sister Site,

Distributor of
Industrial Products
Web Search ..
Powered by;








FAH Series
AUTO INSERTING TYPE
Features
Same size with IC can be assembled by any automatic IC inserter.
Molded 0.3" integrated circuit packing outline alloweing automatic insertion.
Smaller size make better heat convection during PC board wave soldering.
Top tape sealed to withstand wave soldering, board washing.
All materials are UL 94V-0 grade fire retardant plastics.
Gold plated contact to ensure low contact resistance and tin plated terminal to prevent contamination during soldering.
Twin contact designed to ensure stable contact.


Contact Rating
Switching
25mA, 24VDC
Non-switching
100mA, 50VDC
Contact Resistance
Initial
50m ohm MAX.
After life test
100m ohm MAX.
Insulation Resistance
1,000M ohm MIN. at 100VDC
Dielectric strength
500VDC for 1 minute
Capacitance between adjacent switches 5pF Max.
Mechanical and Environmental Characteristics
Temperature Rating
Operating
-25oC to +70oC
Storage
-40oC to +85oC
Operating Force
800g Max.
Operating Life
2,000 Operations.
Humidity
95% RH, 40oC for 96 Hrs.
Vibration
Per MIL-STD-202F, Method 204D
Solderability
After flux 230 ± 5oC for
5 ± 0.5 second 95% coverage.
Soldering Heat
260 ± 5oC for 5 ± 1 second shall have no deterioration.
Dimensions, Construction & Circuitry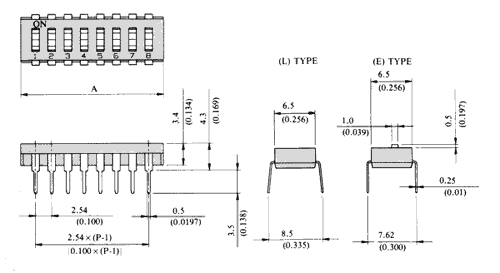 Positions
2
4
6
8
10
12

A

7.12
(0.280)

12.20
(0.480)

17.28
(0.680)

22.36
(0.880)

27.44
(1.080)

32.52
(1.280)
Unit: mm (inch)
FAH
1
08
L
Series
Contact
Form
Number of
Positions
Actuator, Sealing,
& Row Spacing
FAH
SPST
02
04
06
08
10
12
L = Low Profile Actuator & row spacing 8.50mm
L01 = Low Profile Actuator & row spacing 7.62mm
E = Extended Profile Actuator row spacing 7.62mm
E01 = Extended Profile Actuator row spacing 8.50mm
LT = Top Tape Sealed, Low Profile Actuator Pin out 8.50mm
LT01 = Top Tape Sealed, Low Profile Actuator Pin out 7.62mm



**Specifications subject to changes**

[Go to Search] [Back]


Page Links


Electrical Characteristics

Mechanical and Environmental Characteristics

Dimensions, Construction & Circuitry

Part Numbering System


Back