Heat shrink tubing (or commonly "heat shrink") is a tube which shrinks in diameter when heated. Its diameter and thickness can vary, and several types including thin wall, medium wall, dual wall, and thick wall tube are available. Typical applications include: waterproofing connections with wire, battery packs, electrical insulation, termination, splicing, cable bundling, color coding, strain relief, wire marking, identification, mechanical protection, corrosion protection, abrasion protection, and moisture and weather sealing.

Heat Shrink Tubing was invented by Raychem Corporation who is owned by Tyco. It is made using a process called radiation curing, which utilizes short wavelength ultraviolet light (UV), or high energy electrons from electron beam (EB) sources, to cure (cross-link) special reactive coatings, varnishes, inks and adhesive formulations. When a substrate or coating is exposed to highly accelerated electrons, a reaction occurs in which the chemical bonds in the material are broken and a new, modified molecular structure is formed. Once they are cross-linked, properly cured products exhibit both high physical and chemical resistant properties.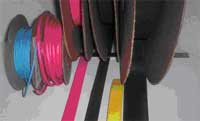 The tubing is typically made from polyolefins, PVC, polyvinyl fluoride and their blends with other plastics and elastomers. The formulations can be designed for chemical, heat, flame, and abrasion resistance.
In recent years the technology of heat-shrink tubing has been refined to allow its use in tiny medical products that have the width of a human hair, and in high-temperature aerospace equipment where it must stand up to oven-like environments. Expertise in polymer science lets suppliers devise special blends of tubing material that can handle these and other specialized applications.
It is placed over the connection to be protected and then heated with an oven, hot air gun or similar tool. Convenient but less effective methods for shrinking the tube include a soldering iron (held in close proximity, but not touching the tube) or the heat from a lighter. These processes cause the tubing to contract as far as one sixth of its original diameter (dependent on the heat shrink), providing a snug fit over irregularly shaped joints. This provides good electrical insulation, protection from dust, solvents and other foreign materials, as well as strain relief. If overheated, heat shrink tubing can melt, scorch or catch fire like any other plastic.

Some types of heat shrink contain a layer of thermoplastic adhesive on the inside to help provide a good seal and better adhesion, while others rely on friction from the closely conforming materials. Heating plain non-adhesive shrink tube to very near the melting point may allow it to fuse to the underlying material as well.
Heat shrink tubing and other products can be found in all major markets, such as automotive, electronics, aerospace/aviation, military, home theater audio & video, telecommunications, shipbuilding, appliances, rail/transit, and many more industries.
Polyolefin Tubing is a variety of heat shrink tubing that is highly resistant to flame, highly flexible and has excellent chemical, physical and electrical properties. Polyolefin tubing has a low shrink temperature that can be easily marked. Polyolefin Tubing has superior resistance to abrasion and meets UL, CSA and military specifications.
Dual Wall Polyolefin Tubing is a selection of heat shrink tubing with a flexible adhesive liner and a great shrink ratio that allows a broader range of applications. Dual Wall Polyolefin Tubing bonds to a wide variety of plastics, rubbers and metals; medium wall increases mechanical strength and cut-through resistance. Dual Wall Polyolefin Tubing provides a permanent, waterproof environmental seal and meets military specifications.
Shrinkable PVC Tubing is an economical variety of heat shrink tubing designed to contract with a low temperature application. Shrinkable PVC Tubing resists sunlight, moisture and fungus and is highly flame retardant; can be found in vivid and 'crystal' clear colors. Characteristics meet the UL, CSA & military specifications.
Thin-wall tubing provides superior insulation, strain relief, and protection against mechanical damage and abrasion. When corrosion protection and sealing are required, use dual-wall tubing.
Source:
Radiation Technology for Polymers - By Jiri George Drobny
Expanded Line of Medical Heat-Shrink Tubing
Accelerated Electron Beam Curing of Polymers