| | |
| --- | --- |
| | Product Links |
| | |
| --- | --- |
| | Inside SRI |
SRI-Newsletter
| | |
| --- | --- |
| | Subscribe to our newsletter to receive monthly specials, manufacturer's feature, and electronics news via email. |

---
See Our latest release of SRI-Newsletter here


---
View Our List of Archived Newsletter Articles


| | |
| --- | --- |
| | SRI Links |
Visit our Sister Site,

Distributor of
Industrial Products
Web Search ..
Powered by;










EDEFT609 - Stepper Logic Controller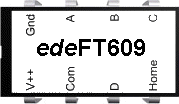 The FT609 provides a new simple way of controlling Stepper Motors. Stepper Motors have traditionally been favored because of their exact positioning characteristics, but the electronics required to drive them has always been complex. The FT609 will allow you to use stepper motors in computer driven products without the complexities. A simple two IC solution with a miminum number of additional componets provides a rich set of control functionallity with few headaches.

The FT609 is a stepper logic controller. It will completely control a stepper motor through one 2400 baud line. The FT609 does not need any external components except a driver circuit for the stepper motor coils. The FT609 does not have the high current capacity to directly drive the stepper motor, therefore a driver circuit such as a L293 (Push-Pull four channel driver), UND2540 (Quad Darlington Power Driver) or a transistor circuit is needed.

FT609 Features: Only one serial input line to control all aspects of the FT609. Variable stepping speeds from .417 milliseconds to 27.3 seconds. Directional control. Has a single Stepping Mode. Has count function that will step the motor the exact number of steps needed. Has a home pin function that will automatically stop on home pin or step a certain number of steps before stopping. Two modes, automatically shut off stepper motor current when not stepping and constant stepper motor current. Automatic ramp up and ramp down functions. This allow for the gradual increase/decrease in stepping times to accommodate large loads or high speeds. Three different stepping sequences Wavedrive, Twophase, and Halfstep.
Download the EDEFT609 Datasheet (Acrobat PDF).
To Order, Click on your choice:
EDEFT609/P (DIP Package)
EDEFT609/SO (SOIC Package)




**Specifications subject to changes**

[Go to Search] [Back]


Page Links



Free Acrobat


E-Lab product specifications are available in Adobe Acrobat PDF format (ver3.0).

Download a free copy of the Acrobat Reader software directly from Adobe.