| | |
| --- | --- |
| | Product Links |
| | |
| --- | --- |
| | Inside SRI |
SRI-Newsletter
| | |
| --- | --- |
| | Subscribe to our newsletter to receive monthly specials, manufacturer's feature, and electronics news via email. |

---
See Our latest release of SRI-Newsletter here


---
View Our List of Archived Newsletter Articles


| | |
| --- | --- |
| | SRI Links |
Visit our Sister Site,

Distributor of
Industrial Products
Web Search ..
Powered by;







EDEFT936 - Sony IR Remote Control Decoder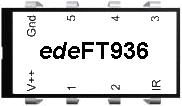 The FT936 is a Sony IR remote control decoder. The FT936 will decode the IR signals from a Sony TV remote. It will output the codes on 5 output lines.

FT936 features: The FT936 has a single bit high on each of the five lines for the following commands. This allows the use of these commands without any external logic. Power Ch + Ch - Vol + Vol - The following Sony TV remote commands are recognized: Power Ch + Ch - Vol + Vol - 0 1 2 3 4 5 6 7 8 9 picture + picture - color + color - brightness + brightness - mute This chip can be used for controlling any project that needs a remote control. It enables you to easily add a remote keypad (remote control) to any project.
Download the EDEFT936 Datasheet (Acrobat PDF).
To Order, Click on your choice:
EDEFT936/P (DIP Package)
EDEFT936/SO (SOIC Package)




**Specifications subject to changes**

[Go to Search] [Back]


Page Links



Free Acrobat


E-Lab product specifications are available in Adobe Acrobat PDF format (ver3.0).

Download a free copy of the Acrobat Reader software directly from Adobe.