| | |
| --- | --- |
| | Product Links |
| | |
| --- | --- |
| | Inside SRI |
SRI-Newsletter
| | |
| --- | --- |
| | Subscribe to our newsletter to receive monthly specials, manufacturer's feature, and electronics news via email. |

---
See Our latest release of SRI-Newsletter here


---
View Our List of Archived Newsletter Articles


| | |
| --- | --- |
| | SRI Links |
Visit our Sister Site,

Distributor of
Industrial Products
Web Search ..
Powered by;










EDE1200 Unipolar Stepper Motor IC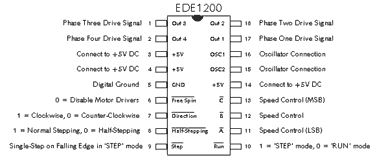 The EDE1200 Unipolar Stepper Motor IC is a 5 volt, 18 pin device designed to interface a logic-level input byte to a stepper motor. The EDE1200 is capable of automatically controlling a stepper motor in 'RUN' mode and of external pulsing in 'STEP' mode. Directional control is available, as well as both full and half-stepping for increased control resolution. The TTL/ CMOS level outputs sequence the stepper drive components, which consist of either four power transistors or a transistor array IC. Both setups are illustrated in our datasheet, and we offer component parts kits for these two arrangements as well.

Download the EDE1200 Datasheet (Acrobat PDF).

To Order, Click on your choice:

EDE1200/P (DIP Package)
EDE1200/SO (SOIC Package)
As mentioned previously, the EDE1200 generates low-level timing signals that need to be amplified for the motor. We offer two power-semiconductor kits for use with the EDE1200. The first, the 'Power IC' Kit, is for use with most small to medium-sized motors. The second , the 'Power Transistor' Kit, is for larger stepper motors. Hookup schematics for both arrangements can be found in the EDE1200 Datasheet. A ULN2003A or MJE3055T datasheet is included with the component kits.

Power IC Kit
(for use with motors which draw <500mAper phase)
4 MHz Resonator
ULN2003A Power IC
Zener Diode

Price: $3.35

Power Transistor Kit
(for use with motors which draw up to 10A (<75W) per phase)
4 MHz Resonator
Four MJE3055T Power Transistors
Four 1N4004 Diodes
Four 1K Resistors

Price: $6.35

Download the ULN2003A datasheet (Acrobat PDF).
Download the MJE3055T datasheet (Acrobat PDF).




**Specifications subject to changes**

[Go to Search] [Back]


Page Links



Free Acrobat


E-Lab product specifications are available in Adobe Acrobat PDF format (ver3.0).

Download a free copy of the Acrobat Reader software directly from Adobe.