| | |
| --- | --- |
| | Product Links |
| | |
| --- | --- |
| | Inside SRI |
SRI-Newsletter
| | |
| --- | --- |
| | Subscribe to our newsletter to receive monthly specials, manufacturer's feature, and electronics news via email. |

---
See Our latest release of SRI-Newsletter here


---
View Our List of Archived Newsletter Articles


| | |
| --- | --- |
| | SRI Links |
Visit our Sister Site,

Distributor of
Industrial Products
Web Search ..
Powered by;







EDE1204 Bi-Polar Stepper Motor Controller IC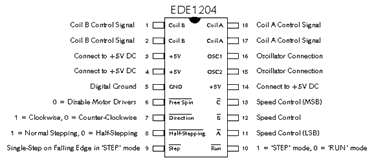 The EDE1204 Bi-Polar Stepper Motor IC is a 5 volt, 18 pin device designed to control any bi-polar stepper motor. The EDE1204 is capable of automatically turning a stepper motor in 'RUN' mode and of external pulsing in 'STEP' mode. Directional control is available, as well as both full and half-stepping for increased control resolution. The TTL/ CMOS level outputs sequence the stepper drive components, which consist two H-Bridges - either from discrete transistors or using the L293 Dual H-Bridge IC. Complete hookup schematics are contained in the datasheet.
Download the EDE1204 Datasheet (Acrobat PDF).

To Order, Click on your choice:
EDE1204/P (DIP Package)
EDE1204/SO (SOIC Package)




**Specifications subject to changes**

[Go to Search] [Back]


Page Links



Free Acrobat


E-Lab product specifications are available in Adobe Acrobat PDF format (ver3.0).

Download a free copy of the Acrobat Reader software directly from Adobe.