| | |
| --- | --- |
| | Product Links |
| | |
| --- | --- |
| | Inside SRI |
SRI-Newsletter
| | |
| --- | --- |
| | Subscribe to our newsletter to receive monthly specials, manufacturer's feature, and electronics news via email. |

---
See Our latest release of SRI-Newsletter here


---
View Our List of Archived Newsletter Articles


| | |
| --- | --- |
| | SRI Links |
Visit our Sister Site,

Distributor of
Industrial Products
Web Search ..
Powered by;









FOR USE IN HAZARDOUS LOCATIONS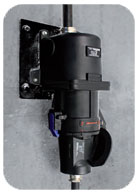 Meltric's DX Series plugs and receptacles are heavy-duty metallic devices that are safe for use in hazardous environments. They are available in 20, 30, 60 and 100A sizes. Each device is EEx ed IIC T6 rated to CENELEC standards EN50014/18/19 Zones 1, 2, and 21. DX's have additionally been tested and approved by ETL for operation under load in a gaseous environment (14.5% acetylene). This is a key performance test required for Class 1, Division 1 products.

The DX's rugged construction, compact size, cost-effective design, IP 65 rating and unique safety and operating features make them a good choice for refineries, petroleum platforms, chemical and pharmaceutical plants, grain silos and other similar potentially hazardous applications.
Ratings and certifications DX

Complies with:
NEMA Class I, Div 1 & 2 (A, B, C, D)
NEMA Class II, Div 1 & 2 (E, F, G)


Complies with:
IEC/EN 60309-1
IEC/EN 60947-3, AC22
EN 50014/18/19 Zone 1 & 2;
EEx ed IIC T6; CENELEC Certified
IEC 61241-3 for zones 21, and 22


IP 65 degree of protection, 20 to 100 amps
Housings are copper free aluminum


12 polarity positions


Operating Principle: The DX receptacles are equipped with an integrated switch whose contacts mate with the receptacle contacts after the plug has been engaged and activated the switching mechanism. The plug is fully integrated with this operation so that it is not possible to remove the plug until the switch is in the off position.
SPECIFICATIONS
Note: See Acrobat File links below or call for additional information

Only few samples of the photographs are available at this time.
Please Click on the Photos below for Part Check in our Database
Please View the Acrobat Files Above for Part Numbers on the Handles, Angle Adapters, Junction Boxes and other Accessories
**Specifications subject to changes**
[Go to Search] [Back]

| | |
| --- | --- |
| | Back |