To comply with RoHS legislation, manufacturers now use materials that require higher reflow temperatures for soldering, which can result in damage to surrounding components unless precautions are taken. Non-Contact Soldering tools and methods have been developed to solve this and other problems by using a high precison method of soldering involving either a laser or a hot air . Both methods, which are discussed in this article, have several advantages over traditional soldering methods.
Hot Air Soldering
First and foremost, the hot air soldering is completely non-invasive because provides precision, pin-pointed, yet non-contact and low-velocity hot air directly to the individual component leads.

a.) SMD leads have no opportunity to bend/deform delicate or scratch/damage delicate pads.

b.) Hot air soldering does not contaminate your assembly with dirt, grime, residual flux, adhesives, etc.
c.) Either Lead-free (RoHS) or traditional tin/lead solders can be used because it never contacts the pad and/or solder unlike traditional soldering tips which all must be carefully segregated at the bench.
d.) Non Contact soldering prevents accidentally bumping or moving your carefully placed SMD which is also a drawback with the soldering iron which can misalign the chip after it is placed because it contacts the chip.
e.) Hot Air soldering excels where traditional soldering irons fail in preparing or "touching up" pads. While contact irons can leave unwanted tags or "icicles" compounding co-planarity problems, the hot air pencil hot levels and leaves a smooth pad;
f.) Soldering irons can be very damaging to ceramic chip capacitors and glass diodes due to its immediate conduction of high temperature directly to the leads setting up unequal thermal expansion conditions between a chip and its leads. Soldering irons have been the cause of significant quality issues, with cracking and fissuring caps an diodes. Hot air soldering, with its convective nature, virtually eliminates this problem.
g.) Hot air soldering has an advantage over laser soldering when soldering reflective surfaces.
Laser Soldering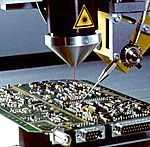 Although the concept of laser solder has been around since the late 1970's, it has not been a widely used solder method until now. With the advent of newer reduced cost, high-power diode lasers, selective soldering with laser now is gaining wider acceptance for production of printed circuit board assemblies and miniature interconnects. Some parts are too small or too light to be soldered using contact heating. In both cases, lasers offer opportunities in non-contact selective soldering that succeed where other methods fail.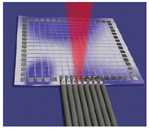 Laser soldering is used in many applications where:
Heat sensitive components are involved, as thanks to very short and precise heat application, laser can be used to solder in components containing plastic housings, LCD displays, micro sensors and other heat sensitive devices.
Selective components are added to a board with preexisting components that can be damaged or altered if the entire board is reflowed.
Components on the board have different reflow requirements
High joint quality and repeatability is required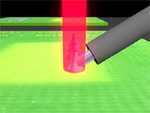 Laser soldering is widely used in applications where localized heat and non-contact soldering is desirable. Newer systems have adjustable beam size without changing nozzles, CAD/CAM support, automatic solder feeding, adjustments for preheating and cooling for varied solder types, and dynamic motion control. This allows for a supreme amount of flexibility in a wide variety of applications. The solder alloy can be delivered in a solder wire, solder paste or deposited prior to placement of components. Each method has its own advantages and downsides and used with accordance to specific project requirements.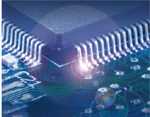 Laser systems are cost-effective and require a minimal amount of maintenance. They require no nitrogen and use both flux-core and no-clean soldering wires for the process. In a high output environment, a few calibrations may be required and the lens should be kept clean.
In the long run, the soldering process selected is going to be a result of the mix of components to be soldered. Contact and non-contact soldering should not be considered mutually exclusive, but rather compliment other methods.
Sources:
http://www.leisterlaser.com/overview_s.asp
http://www.emasiamag.com/article-3009-lasersolderreflowapplications-Asia.html
http://smt.pennnet.com/....Soft-Cost-Considerations/
http://www.ma-info.de/html/laser_soldering.html