Terminal blocks allow for easy connection of several wires to one source. Usually they connect equipment in an enclosure. They are available in a variety of shapes, sizes, wire types, durability types, and terminal qualities, so it is likely to find one for just about any wiring application. Voltage rating, current rating, and operating temperature are important performance specifications. Additional considerations include number of contacts or pins, contact pitch and conductor size. Many manufacturers will custom build them to fit a particular design. Some of them require the wire to be stripped, while others require a crimp on terminal connector. This article will examine some of the different types of terminal blocks and provide descriptions and general applications.

PCB terminal block
The PCB terminal block is designed to provide excellent EMI filtering of low voltage DC power and signal/control lines. These terminal blocks use a screw clamp system with wire protector, which provides for quick and simple installation. Applications include power supplies in telecommunications equipment, metering, industrial controls, instrumentation and heavy equipment controls.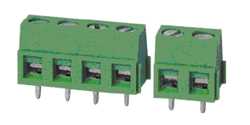 Other versions of PCB terminal blocks use a screwless wire attachment system for faster assembly [See Fig. C]. They are less popular than screw clamps, but well suited for top-entry connections and applications that use small wire sizes. Tab terminals (spade terminals, blade terminals) can be inserted and removed rapidly because they do not require soldering. Other specialized and proprietary termination options are also available. Pluggable PCB terminal blocks allow for more versatility with the angle and placement of the header. This style also allows for disconnection of groups of wires at the same time. The plugs are inserted into a header that is mounted to the PCB. Some headers have locking mechanisms to secure the plug and prevent unintentional disconnection.


A. Screw type PCB terminal block
B. DIN rail terminal block with pluggable terminal block
C. Screwless PCB terminal block
D. Pluggable terminal block with PCB header
E. Screw type PCB terminal block

Barrier and Panel Mount Terminal Blocks
Barrier and panel mount terminal blocks mount to a board using a screw rather than being soldered like other PCB terminal blocks. Usually barrier style terminal blocks are used with higher amperages (20A - 75A) and thicker wire gauges (10 AWG- 22 AWG). Most manufacturers construct them from a UL rated thermoplastic, so they are sturdy and well insulated. Applications for barrier and panel mount terminal blocks include industrial controls, power supplies, HVAC equipment, test equipment, home appliances, and telecom equipment.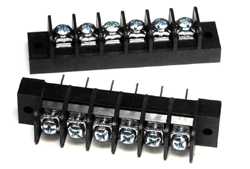 DIN Rail Terminal Blocks
Many control panels use DIN Rail Terminal Blocks, like Fig. B above, to connect the control wiring (switches, relays, contactors, etc.) to the field wiring. They can be combined with pluggable terminal blocks to group wires from a specific device. The idea is to provide an easy way to connect and identify individual wires connected to industrial equipment. There are a variety of DIN rail terminal blocks like screw-type or screw-less, feed-through, multilevel, mini, ground, fuse, disconnect or direct mount. Some of them have built-in LED's that light up when voltage is present making problematic connections easy to identify. Terminal block accessories include:

" Rails
" End brackets
" End covers
" Angled support bracket
" Cover top
" Separators
" Jumpers
" Screwdriver
" Wire cutter/ stripper tool
" Marking tags and accessories (blank and printed tags, tag adapter, indelible marking pen, etc.)