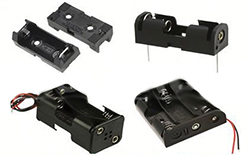 The size and shape of battery holders is inexorably tied to the batteries they are designed to hold and the demands our increasingly compact portable world. From the bulky flashlight battery of the 1950's that accepted "D" batteries, to the typical coin cell battery holder of the 80's used on PCB's, to the more recent surface mount battery holders capable of withstanding wave soldering in high production factories, battery holders have been designed to fit the growing needs of shrinking devices. Increasingly demanding applications have also created the need for new materials able to withstand wide temperature swings battery holders must endure. Many design considerations must me made when choosing the appropriate battery holder including size, power consumption, accessibility, temperature, vibration, moisture, and much more.
Some of the questions that engineers need to ask are: What is the type and quantity of the batteries to be used? Is the device stationary or portable? What are the chances of shock or vibration? Are there any temperature or environmental concerns? Who is the target user and how much dexterity can they be assumed to have? How important is it to find an economical solution? Each application provides different weight to each question.
Military applications for battery holders are often more focused on the demanding requirements. According to MPD, a leading manufacturer of battery holders, some of the challenges facing military battery holders are heavier battery weights, higher forces upon the holder and contacts, rough handling, long storage life, corrosion, organics and the need for current continuity under any circumstances. Some examples of typical battery holder applications are GPS units, portable radios, night vision gear, back-up power systems, laptops, electronic locks, range finders, and radar systems. Each project we have tackled has presented a different set of requirements for the battery holder to function correctly without loss of power or complete failure.

Unlike military applications, the global marketplace must consider the cost more. The pressure is on engineers and manufacturers to cut costs in any way possible, but often times this contradicts the demands of the consumer who wants a device to perfectly all the time. Often times trade-offs occur. Gold contacts offer the best conductivity, while less conductive and less expensive metals, like tin, require high contact force to ensure continuous current, leading to more difficult battery removal and a higher chance of breaking the holder due to added stresses involved in retaining the battery. While this might not be an issue in a thermometer, many medical devices must consider these.
Medical applications must have highly reliable battery holders - especially with the risk of lawsuits, or worse, loss of life. A battery-powered defibrillator, for example, must discharge during cardiac emergencies. Battery holders don't have to be approved by regulatory agencies such as the FDA, but they should be independently tested and certified for medical devices.