From solar power distribution to charging your phone, dc power connectors offer a wide range of styles and options. Some, like cigarette sockets and DC jacks have been around our entire lives and because we are so used to them and they are so prevalent, backwards compatibility is important. Because the power market is directly tied to the electronics market, it comes as no surprise that recent reports have also indicated a rise in DC power installations in buildings driven by LED lighting and other DC hungry applications like building automation.
Some DC applications, like solar power distribution, require a more robust connection that can withstand harsh environments and still provide a safe connection. Higher amperage installations need features like dead-front construction which utilize safety shutters to prevent accidental connection. Some of the higher voltage plugs and receptacles (600VDC+) use jumpers as a safety precaution to split the arc in case of accidental disconnection under load. Meltric DSDC connectors provide a lockout feature on the receptacle pawl to prevent accidental disconnection under load.

These Meltric DSDC series devices can be used on a power distribution sytem connected to a solar panel field
Many of us are used to the cylindrical connectors often referred to as "barrel connectors" or "tip connectors" that can be found in a variety of sizes. They are most often used with a DC convertor and plugged into an AC wall outlet. Cylindrical plugs generally have an insulated tip constructed to accept insertion of a pin. The outer body of the plug is one contact, most often but not always the negative side of the supply. A pin mounted in the socket makes contact with a second internal contact. The outer plug contact is often called the barrel, sleeve or ring, while the inner one is called the tip.1
There are a wide variety of sizes and designs for these power connectors, and many appear quite similar to each other yet are not quite mechanically or electrically compatible. There are at least two different national standards—EIAJ in Japan and DIN in Germany, plus the JSBP connector used on some laptop computers. The Japanese EIAJ standard includes five different sizes, with each supporting a specified range of voltages. Most of the other coaxial DC power connectors have no specified voltage association, however.1

MPD carries all of the most common plug and jack sizes which are 2.1mm x 5.5mm and 2.5mm x 5.5mm Contact ratings commonly vary between1A -5A at 12VDC.4 The 'tip' (i.e., the inner conductor) usually carries the positive (+) pole, but this can vary based on the electrical polarity configuration of the device being powered.
Cigarette lighter sockets were not originally designed to provide DC power, but because they are so prevalent, their use has been adapted as a power source. Standardized 12 volt DC automobile plugs are defined in the United States by UL Standard 2089 regarding vehicle battery adapters. Three sizes exist (one for 6 VDC and two for 12 VDC) and the mating of the different sized 12 VDC plugs and jacks is problematic. Because of this, and the small gauge wire sometimes used, they may provide unreliable power connections.1
The polarity for 12 VDC sockets is center pin positive (+), outer collar negative (−). Although the nominal voltage of a 12 V lead acid battery is 12 VDC, when the engine is running the car's battery charging system will bring the system voltage to 13.8 VDC or higher. The possible range of battery voltages from 11–15 VDC must be taken into account by devices attached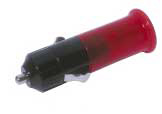 to the lighter socket. In newer cars, the socket is equipped with a plastic cover without the lighter heating element, due to declining popularity of smoking. These outlets usually have a plastic cap tethered to them, and are usually labeled as being only for DC power, because they are not intended to withstand the heat produced by an electrical cigarette lighter.

https://en.wikipedia.org/wiki/DC_connector
http://www.dcplugs.com/index.php