Polymeric positive temperature coefficient (PPTC) resettable fuses, or just resettable fuses, are devices are similar to circuit breakers in function, but to fuses in design. The term self-resetting fuse may be more appropriate because once overcurrent is removed, they reset themselves. They can be found in devices like computers/peripherals, telecommunication equipment, and aerospace/nuclear applications where fuse replacement is often difficult or not recommended.
They are made from a nonconductive organic crystalline matrix with conductive carbon black mixed in. This combination is designed so that when too much electric current is applied and the fuse heats up, a phase change occurs expanding the crystalline matrix, causing the conductive carbon particles to move apart and breaking their conductivity. The result severely increases the fuse's resistance to electric current, effectively closing the circuit. Before the phase change a polymer-carbon combination may have a resistance measured in milliohms or ohms, after the phase change the same structure's resistance may be measured in megaohms. The break time of these fuses is dependant on the amount of overcurrent. In general, they are considered slow-blow fuses, but some are made to trip after only a few milliseconds.
These fuses will typically remain hot until the current is removed and the source of the electrical fault is corrected. After only a few seconds of cooling, a normal resettable fuse will be partly conductive again, but the exact same conductive paths never form so that the resistance after reset is slightly different from before. The resistance of a PPTC fuse may triple or quadruple after the first reset, but thereafter changes are relatively unimportant.
PPTC resettable fuses compete with another common overcurrent protection device, namely positive temperature coefficient (PTC) ceramic thermistors. However, PPTC fuses offer several advantages. First, they have lower resistance and therefore lower heating, and can be rated for much higher currents. Second, the ratio between open-resistance and close-resistance is much higher than with ceramic PTC fuses. For example, the resistance change in PTC thermistors is generally in the range of 1–2 orders of magnitude, but with PPTC fuses, the change may be 6–7 orders of magnitude. However, ceramic PTC fuses don't exhibit the increase in resistance after a reset. (Kruger)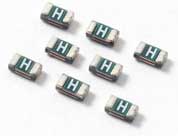 Resettable fuse manufacturers have made improvements in the polymer for more stable performance and extended life. As more and more electronic products become portable with design space constraints, manufacturers are making PPTC fuses that can handle higher currents in a smaller package. Surface mount fuses can be found in applications including small consumer electronic products such as mobile phones and computers, Flash drives, USB thumb drives, hard disks, computer peripherals, and many others.
Our Resettable Fuses line:
+ Frontline Fuses
+ Optiuses
Sources:
www.iihr.uiowa.edu/~hml/people/kruger/Publications/ChipCenter/pptc01.pdf
www.littelfuse.com
www.bourns.com