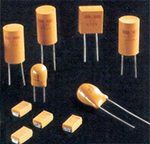 When designing a circuit, engineers need to choose capacitors based not only on the capacitance, but also parameters like the nature and amplitude of electrical spikes, polarized or not, operating temperature, voltage, size, and cost. Most young engineers are familiar with the concept of how a capacitor works, but are unaware of the complexities of choosing which capacitor is best suited for the application or how fragile the supply/demand situation is for them. Tantalum and multilayer ceramic capacitors (MLCCs) have had a sort of back-and-forth over the years in power circuits because they both have a great cost/performance, but they each have advantages and disadvantages that will be discussed in this article.
Consider this blog from an engineer who has experienced this over the years:

About 15 years ago we began a transition from aluminum electrolytic to tantalums because of their smaller size per uf. Lately we have shifted from tantalums to ceramics for several reasons: 1 - tantalum prices rose significantly and lead times became quite long. 2 - MLCC ceramic capacitor technology advanced to the point where large "bulk" capacitor values became available at low cost. 3 - we had several instances of high failure rate of tantalums due to surge current. Tantalums are prone to this failure, ceramics are not. The increase in price and lead time of tantalums was due to several factors including competition with high value ceramics which had become available, and tantalum being listed as a "conflict mineral". This does not mean that ceramics are a panacea. We have had issues with microfracturing of large ceramic capacitors. We recently substituted a tantalum in place of a ceramic to mitigate a microphonics issue caused by the piezoelectric behavior of the large ceramic part. We are also noticing that the capacitance value of large ceramic capacitors is strongly dependent on the DC voltage applied, so we have to consider derating more carefully.
Reference https://www.physicsforums.com/threads/tantalum-vs-ceramic-capacitors.617906/
It has been over 10 years since the last supply imbalance for tantalum, and although it isn't necessary to panic now, engineers who often focus on the higher cost items on a board need to wake up call. Because tantalum is main ingredient in a large amount of capacitors used in consumer electronics, the price is strongly affected by the rate of growth of the consumer electronics industry.
Advantages of tantalum capacitors are: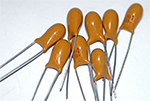 High volumetric efficiency.
Stable electrical performance over temperature (T.C. 12%).
Operating temperature range –55°C to +125°C, 2/3 Vr (linear derating) above +85°C, CGT series is derated above +40°C.
Better frequency characteristics than aluminum electrolytics.
Self-Healing, no wear out mechanism. No degradation in performance or reliability.
No limitation on shelf life.
Advantages of MLCCs:
MLCCs need no temperature derating.
Have a wider frequency bandwidth and lower impedance than tantalums, making them more effective in suppressing noise in power lines.
They are non-polarized. Electrolytic capacitors are polarized, giving a danger of damage or even explosion if subjected to high reversed polarity pulses, or if they are mounted incorrectly
The ESR (equivalent series resistance) and the ESL (equivalent series inductance) are much lower than those of tantalums
Ceramic Capacitors Issues:
Capacitance drops due to increasing DC BIAS
Capacitance degradation over temperature range
Capacitance goes down due to small AC signal (20-30%)
Loosing capacitance during life time
Piezo effect mechanism
Mechanical weakness
Where to Get Tantalum Capacitors

The main manufacturers of tantalum capacitors are AVX, Kemet, and Vishay; plus some great suppliers too. Nemco's focus on supplying this one dielectric type, solid tantalum, gives them the advantage of concentrating all of their resources, technology and manpower to offer unsurpassed levels of product quality and customer service to the market which includes the growing contract manufacturing community. Nemco's ongoing technology road map has evolved to meet the changing needs of the electronics manufacturing sector. In keeping with technological demands, Nemco introduced low profile capacitors for the growing PCMCIA market and LOW ESR (type LSR) devices for the rugged requirements of switch mode power supply applications where higher ripple current handling capabilities are needed.