Solderless terminals allow for safe termination of a wire without the need for solder by using a crimp tool designed for the size and style of terminal. Terminals can be insulated and non-insulated with PVC or heat shrink, and types include ring, spade, splices/butt connectors, ferrules, bullets, and disconnects - all in various styles. The quality of terminals can vary from one manufacturer to another, so it is important to understand what to look for in a quality terminal. Along with that is the quality of the crimp of the terminal to the wire, and the tool used to do so can make a big difference. This article will focus on what to look for in a quality crimper and solderless terminal.
Insulated Terminals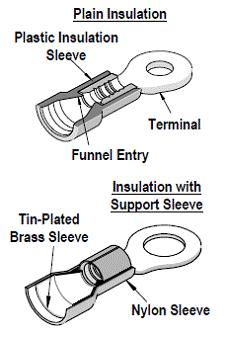 Insulated terminals are usually covered with either vinyl or nylon insulation. The choice between the two seems to be mostly preference. The biggest difference is that vinyl is non-hygroscopic, which means that humidity does not have an effect on it, while nylon can become brittle if not properly stored, so upon opening a pack of nylon insulated terminals, they should be used. One thing to look for is that the insulation is flared or has a champfer to make it easier to insert the wire without having strands fold back. Because plastic has memory, after it is crimped for a while the insulation can become loose. Quality terminals use small metal support sleeves inside the insulation to counteract this. You can also look for a UL 94V0 (vinyl) and UL94V2 (nylon) flammability rating.

Heat shrink insulated terminals provide long-lasting, moisture-proof connections that withstand water, salt, corrosion and heat, all of which cause serious problems for conventional, unsealed splices. The inner wall of the heat-shrinkable insulation sleeve is lined with a special hot-melt adhesive that is inert at room temperature, permitting wires to be inserted easily into the splices and terminals. As the sleeve is heated, the adhesive melts and flows under pressure from the tubing. This action creates a tight seal that repels moisture. Good heat shrink insulated terminals will have excellent abrasion and chemical resistance properties.
The little extra features that matter
Insulated and non-insulated terminals alike can benefit from wire stops like the image below. This prevents over-stripped wire from being inserted too far into the terminal.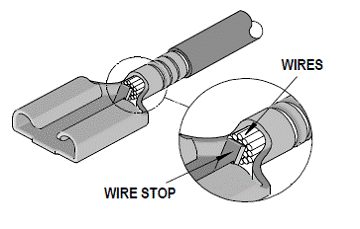 When quality solderless terminals are stamped, the inside of the barrel is scored with serrations or dimples. When the crimp is made and the metal terminal barrel is drastically deformed, the tin plating on the inside of the barrel is fractured at the serrations, thus causing bare copper-to-copper contact between the wire and the terminal barrel. This greatly enhances electrical conductivity. If properly designed, the serrations, or dimples, have angled grooves that, during the crimping operation, will bite into the wire, which will greatly increase the mechanical integrity of the crimp.
A brazed-seam (welded) barrel terminal will not open under conditions of stress or wire pull. This allows for crimping from any direction without the barrel opening up, and provides greater tensile strength. This terminal is ideal for hard to crimp solid and stranded wires.
Proper Crimping
One of the keys to proper terminal performance is the crimp itself. There's a range of styles in crimping tools, and most will properly install a terminal.
Another common test for terminals attached to wire is a pull test done by device [see right] that clamps the wire, pulls at a set speed, and measures force by means of a load cell. A pull tester also can be as simple as hanging fixed weights on the wire for a minimum of one minute.

The following charts show the UL and US Government specifications (MIL-T-7928) for wire pull-out forces of various wire sizes. The tensile strength is shown in [lbf] (pound-force). It indicates the minimum acceptable force to break or separate the terminal from the conductor.


Most manufacturers will recommend the proper crimp tool for the style and size of terminal being used. A full cycle ratcheting hand tool ensures complete crimps by preventing release of the crimper until proper pressure has been applied. Usually ratcheting crimp tools have a wider surface area for crimping which makes them more sturdy and easier to align. Using a quality crimp tool and stranded wire will ensure best crimp results.