Because of increased environmental legislation against lead, many manufacturers are hoping to find lead free alternatives with the same functionality as tin/lead. New finishes that contain silver have the same functionality if not better, but the operation and storage requirements often need to be explained to OEM's. One major concern is the perceived weakness of immersion silver - the tendency to tarnish.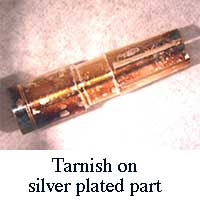 What is Tarnish
Tarnish is a thin layer of corrosion that forms over copper, brass, silver, aluminum, and other similar metals as their outermost layer undergoes a chemical reaction. It is a product of a chemical reaction between a metal and a nonmetal compound, and is usually in the form of a metal oxide - the product of oxidation. Unlike rust, tarnish is a surface phenomenon that is self-limiting. Only the top few layers of the metal react, and the layer of tarnish seals and protects the underlying layers from reacting.1 Moisture is a key factor for silver to tarnish in response to corrosive environments, and other compounds like chloride and sulfur dioxide can accelerate the formation of a tarnish film. This moisture allows for the dissolution of corrosive elements leading to dissolution of metallic silver. This article will cover some methods to help prevent tarnish and remove it from electronic components and whether or not it is necessary to do so.
Pros and Cons of Silver
Unfortunately, the relative softness and large contact area that makes silver contact finishes work so well electrically also contributes to its inherently poor mechanical/durability performance. Clean silver has a relatively high Coefficient of Friction (COF) which means that more force is required to remove contacts form their socket, and more material is left behind.2 This means that silver is a less durable finish.
On the other hand, silver also has good solderability characteristics, even if the silver is somewhat tarnished. If the level of tarnish is excessive, a more active flux may be required. Immersion silver is widely used as a solderable finish on board applications but can have limited shelf life if the silver is exposed to the environment.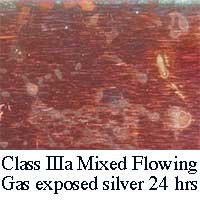 Tarnish is Not Always Harmful
A history of using silver finished contacts has shown that low and stable contact resistance is maintained in many applications using tarnished silver contact surfaces.
Moderate visual tarnish does not affect the performance of the surface finish. If the quality and level of silver tarnish is not excessive and wipe and sufficient normal loads are incorporated into the connector design, silver tarnish typically will not cause contact performance problems and can even lead to durability and insertion force improvements.2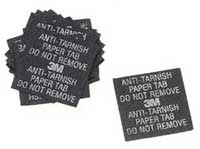 Preventing Tarnish
Metals are best conserved when stored in an even and low humidity atmosphere, ideally at 40% relative humidity or lower.3 Silver tends to corrode easily when stored in damp, moist locations such as a basement because it will accelerate tarnishing. A few products on the market can help prevent tarnish from polish to anti-tarnish paper and poly bags that absorb sulfide gases. 3M makes 1" x 1" absorbent tabs and strips that can protect electronics for up to 6 months in a well-sealed enclosure up to a cubic foot. Activated charcoal is sometimes used to absorb sulfur by placing it in the bag but not in direct contact with the object.
Removing Tarnish
The same care and methods that would be used for museum quality silver can be used for electronic components that have tarnished. "A slurry of precipitated (pharmaceutical grade) calcium carbonate and deionized water is created and rubbed onto the silver piece with a cotton rag or cotton ball. It is recommended that the slurry be tested on the bottom or in a non-visible area of the silver for abrasiveness. If the slurry is too abrasive it will scratch the surface and increase the potential for future tarnishing. The polish is applied with a soft cloth and polished in a circular motion."4 Cloths with solvents, called waddings, are available too, but may leave behind residue that can be removed with a brush or soft linen. Dips with acid and other agents are also popular, but should not be used where the chemical could leak into a hollow area and become trapped. Fiberglass erasers can also be used to clean contacts.
Conservation Concerns: A Guide for Collectors and Curators. Washington, D.C.: Smithsonian Institution Press. 1992. p. 132. ISBN 1560981741.
Drayman-Weisser, T (1992). Caring for Your Collections. New York: Harry N. Abrams Incorp. pp. 109-121.