After witnessing a serious industrial accident involving a defective motor plug, Gilles Marechal embarked on a mission to develop an industrial plug and receptacle that would eliminate the hazards posed by ordinary pin and sleeve devices. This resulted in the establishment of Marechal Corporation, which is now manufactured and sold in the USA by Meltric Corporation. Meltric Corporation's complete line of industrial duty plugs and receptacles (including the world's only UL and CSA switch rated plugs and receptacles) are designed with safety in mind.
Once the plug is removed, Meltric's female receptacles are designed with a dead-front construction, which ensures protection from live parts. The disconnected plug provides visual verification of de-energization and it can be easily locked out and tagged out by inserting a lock in the plugs lockout hole. An NFPA 70E defined hazard risk category '0' is maintained when connecting or disconnecting electrical equipment so workers can avoid having to 'suit up'.
Safer and Faster Connection = Decreased Downtime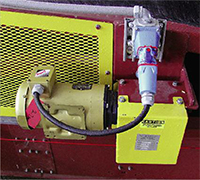 The impact on downtime for motor change-outs or any task requiring motor de-energization has benefitted the facilities where Metric's plugs and receptacles have been installed on production equipment. According to Greg Schneider of Greg Schneider Electric,
"Installing a Meltric Decontactor Series switch-rated plug/receptacle between a motor connection box and the power line feed eliminates all hardwiring tasks during motor change-outs. Load breaking is performed in seconds by pushing the red, spring-loaded, pushbutton pawl on the plug's casing. Unwiring and wiring motor connections for high HP motors usually requires more time due to the size and rigidity of the power cable. When using Meltric pre-wired plugs, even high HP motors can be disconnected quickly. Motors can be changed out quickly and safely with Meltric plugs. They are easy to install. There's no need to mount a disconnect switch nearby. They meet the code requirements for a line of sight disconnect switch. As an 'all in one' plug, they're a safe and flexible connector ideally suited for fast motor change-outs."
Safely Disconnect Welding Equipment
Meltric Decontactor plugs and receptacles have been used for decades in the welding industry because of their switch-rating, making them uniquely designed for safety in a training environment. Meltric's switch-rated plugs and receptacles combine the safety and functionality of a disconnect switch with the convenience of a plug and receptacle. They are ideally suited for safely making and breaking electrical connections on portable welding equipment because they eliminate the risk of arc flash and electric shock. The plug seals all the live parts in an enclosed arc chamber shrouded by a safety shutter. Since the live parts are kept from user access, the plug offers the highest level of safety in the welding industry.

To obtain a compact, reliable and easy-to-use plug, Meltric Decontactor switch-rated plugs are built with end-to-end contact mating instead of sliding contacts to provide a solid connection; the spring-loading produces optimal contact pressure, which ensures that the integrity of the electrical connection is consistently maintained over thousands of operations. The Meltric plugs are UL/CSA rated up to 200A & 75 hp for 'motor circuit' and 'branch circuit' disconnect switching and are an approved NEC 'line of sight' disconnect switch. They can safely break connections even in overload situations. When used on an extension cord the Decontactor is an inline switch."We previously had some connectors that were not always easy to use, which made it challenging because we have to change out welding machines from booth to booth. The changeouts have been simplified with Meltric plugs since they are a safe, efficient switch that's quickly connected and disconnected," said Jim Mosman, Odessa Dept. Chair & Associate Professor of Welding Technology.

Multiple Connections to One Device
Meltric's multipin devices can safely supply power to multiple motors with one connection. The DN9c can supply power to two 5-HP motors at 480 V from two separate 3-phase supplies and a two wire control circuit. Or the DN9c could supply power to a 5-HP motor at 480 V from a separate 3-phase supply, a 3-HP motor at 240 V from a separate 3-phase supply, and a two wire control circuit. The DN20c can supply power to six 3-HP motors at 480 V from six separate 3-phase supplies and a two wire control circuit or any other similar combination as described with the DN9c. Or a single 3-phase supply could feed multiple motors with a total HP less than or equal to the maximum HP rating at each voltage level.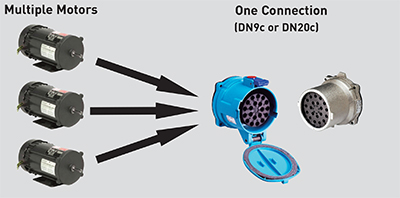 High Amperage and Hazardous Duty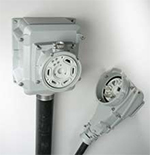 Choose PF/PFQ Series for its durability in harsh environments, exclusive safety features, easy plug insertion and removal. Rated at IP66+IP67 at amperages from 300A to 600A, common applications include shore power, power generation systems, and power distribution in mining and shipyards. These devices utilize a mechanical lock to secure the inlet to the receptacle to ensure safety and watertightness. Silver material and self-cleaning action provide maximum conductivity and performance in dirty corrosive conditions.