Many electronic engineers, and hobbyists for that matter, remember assembling kits when they were young to learn the basics of electronics and have fun doing it. Some kits used to be quite complex devices such televisions, oscilloscopes, audio amplifiers, and even computers. According to Wikipedia, building devices from scratch for hobbyists and beginners has fallen in popularity due partly to the emerging complexity of miniature electronics and embedded software. People still build custom devices and special-purpose electronics for professional and educational use, and as a hobby. Lately a trend has emerged to simplify the complexity by providing preprogrammed or modular kits - basically moving from the analog world into the digital world.
Heathkits which were produced by the Heath spanning many decades were one of the originators of electronic test kits. These included electronic test equipment, high fidelity home audio equipment, television receivers, amateur radio equipment, electronic ignition conversion modules for early model cars with point style ignitions, and the influential Heath H-8, H-89, and H-11 hobbyist computers, which were sold in kit form for assembly by the purchaser. The premise of the company then was that a customer could assemble a kit for significantly less than the cost of a factory-built product. These kits weren't as much for the learning of electronic theory as much as they were for indentifying the various parts and how to put them together, but they did give a sense of understanding the complex and took the "magic" out of the box.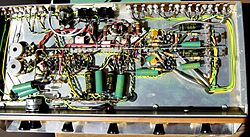 A stereo amplifier Heathkit. http://en.wikipedia.org/wiki/Heathkit
With the development of the mass production of electronics and the switch to surface mount components and IC's making it impossible for the home assembler to save money, Heath and the electronic kit business took a hit.
These days, electronic kits are a completely different animal. One of the more popular kits is Microchip® PIC™ microcontrollers like Velleman's K8076 which connects to a PC and can program a wide range of IC's using software that comes with it. Using the programmer with a Mini PLC-Microcontroller application module like Velleman's VM142 and a savvy programmer can program anything from fancy light display, to an automatic door, to a remote controlled bird feeder.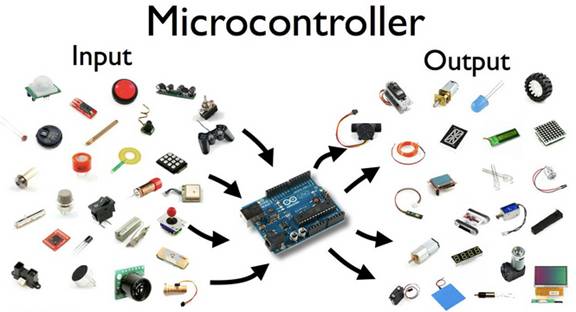 http://grathio.com/micro/
The next step in the evolution of electronic kits is Open Source Hardware (OSHW).
Open source hardware is hardware whose design is made publicly available so that anyone can study, modify, distribute, make and sell the design or hardware based on that design. The hardware's source, the design from which it is made, is available in the preferred format for making modifications to it. Ideally, open source hardware uses readily-available components and materials, standard processes, open infrastructure, unrestricted content, and open-source design tools to maximize the ability of individuals to make and use hardware. Open source hardware gives people the freedom to control their technology while sharing knowledge and encouraging commerce through the open exchange of designs. (sparkfun)
Opponents of this open-source minded approach say "Why would I want to give all my hard work away?"
Proponents say "By opening up the design, you insure that the thing you create will live on past technological improvements."
Sources:
http://en.wikipedia.org/wiki/Heathkit
http://www.vellemanusa.com
https://www.sparkfun.com