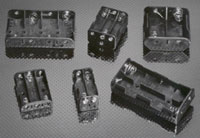 Because battery holders are generally used for power supply or backup on so many devices, many considerations need to be made when choosing a battery holder for a design. Will it be used indoor or outdoor? Will it be subject to vibration, moisture, extreme temperature? These are just some of the questions a designer should ask when choosing a battery holder. This article will present a design check list to cover most of the questions a designer might have.

Today's battery holders typically are either a plastic case with the shape molded in the housing as a compartment that accepts batteries or a separate plastic holder that is mounted with screws, eyelets, glued or double sided taped down. Using either coiled spring wire or flat tabs that press against the battery are the two most common methods of making the electrical connection inside a holder.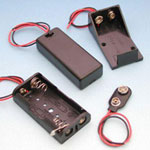 Common connection types for the connection of battery holders to the device include surface mount, through-pin PC or socket mount, solder lugs, snap terminals, and wire leads. Surface mount holders can be mounted on the surface of the device. This can be accomplished through solder tabs or an adhesive base. Through-pin PC or socket mount holders are mounted on a printed circuit board (PCB). PCB mounting is via pins that extend through holes in the board. Battery holders with solder lugs are soldered to the device. A holder with snap terminals can be snapped to the device. Batteries can also be connected to the device via wire leads.
With most designs the first decision to make is whether the holder will be part of the case or an additional part added later. Comparing the cost of assembly, tooling, and fixtures with the cost of prefabricated holders will be a big part of this decision. Be sure everything's included like UL, CSA, RoHS, etc.
The majority of AAA, AA, C and D battery holders available on the market are made with polypropylene or nylon bodies rated for 80-100ºc. Lithium coin cell holders are made with high temperature PBT, nylon or LCP bodies because they normally are circuit board mounting and require wave soldering at 180-240ºc or reflow soldering and rated 260-300ºc.
Battery contacts are the most important part of the design and require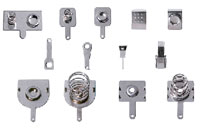 serious consideration. Since batteries are nickel plated it is recommended the contacts be nickel plated to prevent galvanic corrosion between dissimilar metals. Very generally speaking the design choices of battery contacts are: fixed contacts, flexible contacts, and combinations of the two.
Fixed contacts are inexpensive but prone to loss of electrical connection. A combination of fixed and flexible is better but subject to an open circuit upon movement in the direction away from the fixed position. For example, a spring compresses and the battery moves away from the fixed member. Flexible contacts on both side of the battery offer better resistance to loss of electrical connection upon movement of the battery. Flexible contacts with multiple fingers touching the anode and cathode is one of the best configurations, especially for environments where vibration is an issue, because it allows for movement in multiple directions without losing electrical connection.
Features like reverse battery protection can be part of the design. The contact for the anode side can be recessed behind plastic and receive a battery nub common on Alkaline batteries. Another method is a plastic channel to receive a battery post or terminal.
Battery cell sizes held by battery holders include AAAA, AAA, N, 1/3 AA, 2/3 AA, AA, ½ A, 2/3 A, A, 4/5 Cs, Cs, C, ½ D, 9V, lantern, photo or electronic cell, battery packs, and coin or button cells.
Once you have gone through this checklist, you should have a good idea of what type of battery holder or contact you need.
Sources:

http://www.batteryholders.com
http://www.engineersedge.com/galvanic_capatability.htm
http://en.wikipedia.org/wiki/Battery_holder
http://electronic-components.globalspec.com..../battery_holders