The Truth: No surge suppressor can stop a direct lightning strike. Considering that a lightning strike can surge to over 100,000 Amps or more, even if your electrical system was protected from 99.9% of that, then your electrical wiring may take the remaining 0.1%, or 100 Amps, which can permanently damage your electronics. Surge protection packaging can often mislead consumers into thinking that as long as they're not directly struck then they are fine, but that is not really the case. Because the initial lightning impulse is so strong, equipment connected to cables a mile (1.6 km) or more from the site of the strike can be damaged. Still it is important to have surge protection on equipment because they do prevent transient surges and extend the life of equipment.
Figure 1: How Lightning Creates Damaging Voltages Inside the Home
http://www.lightningsafety.com/nlsi_lhm/IEEE_Guide.pdf
In addition to lightning a number of other disturbances can travel down electrical lines and damage equipment. Fallen trees on power lines, or car accidents, or even icing can cause high voltage lines to connect with low voltage distribution lines sending too much voltage into the home's electrical system. "Switching transients result from electrical equipment switching operations, fault initiations, and interruptions in a power distribution system. The sudden change in the system current can initiate damped voltage oscillations, which can create surges and temporary overvoltages."(IEEE)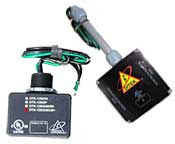 Most manufacturers rate their units by surge current per phase. According to the guide by IEEE, for residential or light commercial locations, a surge current rating of 20 kA to 70 kA per phase should be sufficient. Installations in high-lightning areas should use SPDs with higher surge current ratings, in the range of 40 kA to 120 kA, in order to provide a longer service life and higher reliability.
The voltage peak to which an SPD limits an incoming surge has been given many different names, including "protection level", "Suppressed Voltage Rating" (SVR), "surge response voltage", "let through voltage", "clamping voltage", "surge residual", and "surge remnant", but according to IEEE this is called surge residual and the lower the value, the better. Look for the UL mark and these terms in order to determine the quality of the surge protective device (SPD). Although it is the primary job of the service entrance SPD to send incoming surges to the ground some of the surge will be conducted downstream to the appliances in the building, and to other hard-wired or plug-in protectors.
The quality of installation is an important part in the effectiveness of an SPD. Generally speaking, the building's ground system should be up to NEC code, the leads between the SPD and the panel should be short and without 90º bends. The required fuses or circuit breakers should be specified in the installation manual or on the SPD itself, and these specifications must be followed precisely to provide the maximum reliability. Only a qualified electrician should install SPDs on an electrical system.
In any case, a combination of panel surge suppression and point-of-use protection is best. The hard-wired protectors will have a higher surge current rating and absorb most of the surge, but may not have a low enough clamping voltage to protect sensitive equipment.
http://www.nssl.noaa.gov/education/svrwx101/lightning/faq/
http://stormhighway.com/surge_protectors_ups_lightning_protection_myth.php
http://www.lightningsafety.com/nlsi_lhm/IEEE_Guide.pdf